On the road with Baloji in Kinshasa for his new EP 64 Bits & Malachite
Retro futurist astronauts explore a desolate landscape in search of an ancient artefact. Leather-clad bikers ride through dusty roads, smoking and high-fiving. A lone figure, half man / half plant, roams free. And distinguished elders dance instinctively to an impassioned beat. This is the mythical world Baloji has conjured up for his latest video Capture, the first of three films shot in Kinshasa by the critically acclaimed Congolese musician for his new EP 64 Bits & Malachite.
Co-written by Olugbenga (Metronomy) and featuring Petite Noir and Muanza (Chorale La Grâce), Baloji's urgent vocals join theirs to deliver a hard-hitting message over stabbing drums, rumbling bass and heavy chords. "Capture reflects both on the conflict in Mali in 2012 and on the Kivu situation in the north east of DRC, which has resulted in insane vengeance. These are wars that have killed millions of people but no one cares. It all seems so far away from reality in Europe," says the Belgian based artist. "It's not the easiest song to be coming out with but commercial success is not my concern. I want to appeal to the people. That's me."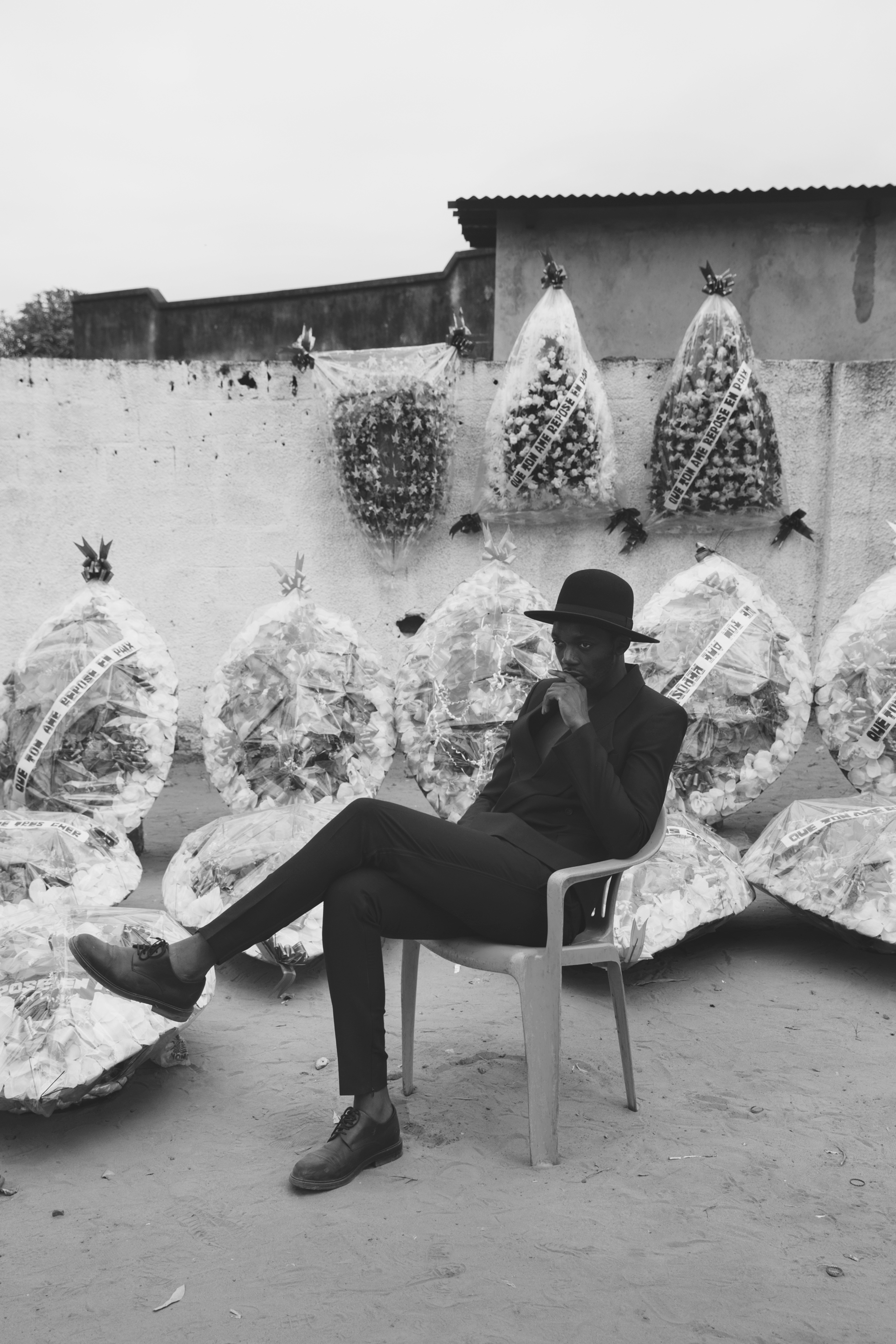 The video production was equally uncompromising. Baloji directed a crew of 20 people over the course of 10 days. It wasn't easy. "There's no cinema industry to draw on and with upcoming elections it's hard for outsiders to get visas. There were cops and secret service everywhere and it took hours to gain authorisation to shoot anywhere. It pushed us all to our limits. We had to embrace it and be ready for anything," he recalls. Ironically the only place where there was no grief was at a funeral for Baloji's friend. Blurry glimpses of the plastic flowers that adorn the coffin are now immortalised on film. "His relatives wanted us to be there to pay respect. There aren't many lines I take from Kanye West but one is, 'People never get the flowers while they can still smell them.'"
Along for the ride were performance collective Kongo Astronauts, Nataal contributing photographer Kristin-Lee Moolman, who documented all of the action and Sam Lambert from Art Comes First, who designed Baloji's suits for the project with Cafe Costume. He also collaborated with accessories brand Komono, who have created a collection of sunglasses from Congolese malachite - a nod to the EP's title and over arching metaphor.
64 Bits refers to computer processors, which are part powered by the valuable minerals found in Congo soil such as coltan, the mining of which has also fuelled conflict. Malachite on the other hand, is "one of the few materials here that has no value other than the emotional and personal. As a kid I'd wear cheap jewellery made from it but it was beautiful to me," Baloji explains. "I spend all my time making music on a device that has a built in obsolescence. We're living in an era of constant evolution that renders what came before useless, like malachite. I'm expressing this opposition of two forces, of living in between two worlds. That's why I don't call myself Afropean. I am Negropolitan."
"The Congolese dress elegantly and with dignity on a daily basis. The attitude here is that you should always look fresh in case you meet the woman you will spend your life with"
Born in Lubumbashi, Congo, in 1978, Baloji's father sent him to live in Liege, Belgium aged three. He struggled with authority and racism during his school years but was embraced by the hip hop community. He joined rap crew Starflam in the late 1990s, which released three successful albums before he left the group in 2004. His debut solo album, 2008's Hotel Impala was a soulful, polished ode to his mother, which was followed by 2011's Kinshasa Succursale. He recorded it live and in just six days, drawing on soukous, rumba and mutuashi.
Baloji has filmed videos in Kinshasa for past singles, such as Karibu Ya Bintou and Entre Les Lignes, but Capture and the follow up Unité et Litre – which follows dancer Jolie Ngemi moving woozily through the city - exhibit a more stylised direction reflective of the genre-defying music he's now making. "My last album was learning and respecting the traditions of playing live Congolese music. Coming from a hip hop background, this was something I had to master. With this EP I'm bringing those two things together."
What hasn't changed through the years though is his attention to style. As well as Art Comes First and Komono, the new videos feature pieces by Grace Wales Bonner, Jan Jan van Essche, Simone Rocha and Raf Simons and a cast of naturally well-dressed citizens. Don't expect to spy a member of the famed La Sape among them though. "I am against the sapuers. They do not reflect the community. There's nothing cool about wearing a $5,000 pink suit. What is cool is the way the Congolese dress elegantly and with dignity on a daily basis. The attitude here is that you should always look fresh in case you meet the woman you will spend your life with," he says. It's this spirit and air of resilience that proves addictive. "Kinshasa was built for 500,000 people and now over 15million live there. It is a city of contrasts and that is its beauty. There are so many ways to experience it." We suggest you hitch a lift with him.
64 Bits & Malachite is out 30 October on Universal France